Aug. 23, 2021
Do all bongs need cleaning?
With the rapid development of technology, it would not be surprising if one day there is a choice of self-cleaning cannabis pipes, but at the same time, every multiple-use bong will need refreshing from time to time. If you are interested in options that do not require regular maintenance, then you may want to consider a one-time use design. You can learn how to make a homemade bong out of fruit or other common materials that can be found around the house, or invest in an ice bong mold that allows for a whole new piece in as long as it takes the water within to solidify.
How to clean glass bong (or silicone)
If you are learning how to clean a bong, then it can be nerve-racking surveying the choices and products that are available on the market, and online in recipe form. The trouble is that many potentially dangerous chemicals and other additives may abrade materials and be detrimental to your health. The best way to clean cannabis bong is to use all-natural ingredients and combine them in the comfort of your home. This recipe is not as rough or milled as many store-bought alternatives, which is why it is so important to stick to this task, as waiting too long may end the option that requires solvent filling.
You will need:
Isopropyl alcohol (or vinegar)
Iodine-free table salt (or rock salt)
1 container (large enough to completely submerge the smoke gun)
1 mixing container
1 mixing tool
Paper towels
Cleaning brush (or cotton swabs)
1 zippered baggie
Instructions
After taking out the stem, put the bong into the container.
Put the stem into a ziplock baggie.
Pour isopropanol: table salt (or other substitutes) in a 2:1 ratio into the mixing container.
Use a mixing tool to mix the two ingredients until the salt is mostly dissolved.
Pour the freshly prepared cleaning solution over the top of the marijuana bong, and then pour it into the baggie with the stem.
Seal the baggie and let the bong soak. It takes 1-2 hours for the slightly dirty ones and 24 hours for the very sticky ones.
Remove the parts from the cleaning solution and place them on paper towels.
Use a brush or cotton swab to scrub any corners and cracks where resin still exists.
Rinse the bong and stem under hot water for 1-2 minutes.
Wipe dry with a fresh and clean paper towel before use.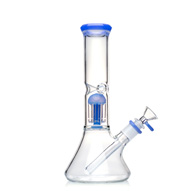 Glass Bong
Tips and tricks for keeping the bong clean
Although there is no way to avoid the sticky resin produced by smoking marijuana, there are a few things you can do to reduce the workload of keeping your bong clean.
Clean your marijuana pipe at least once a day.
Install a screen in the bowl to prevent dust and plant materials from clogging up the stem.
Rinse it every time you use it and add new water to your bong.