Mar. 24, 2022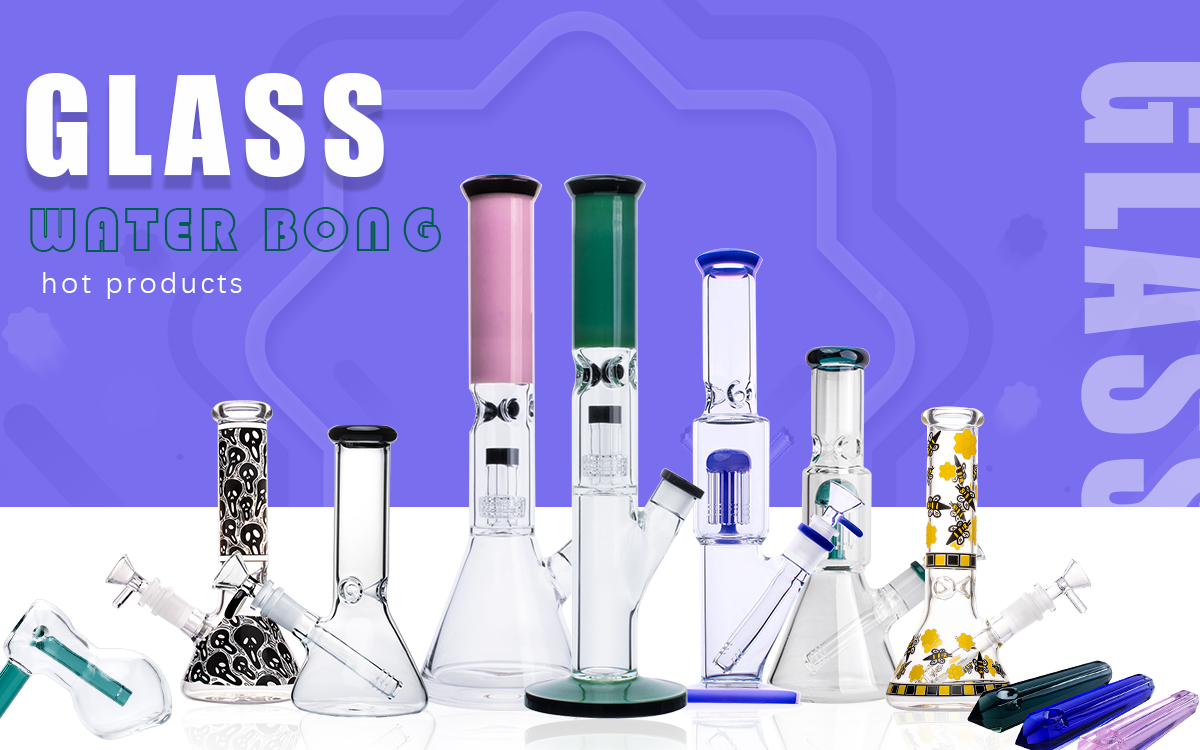 Smoking glass bongs have long been the first choice for new beginners and veterans. Of course, these best glass bongs help make each hitting smoother and more flavorful. Using glass bongs for smoking is also portable, quick, and user-friendly - there is no need to face the mess of weed scraps. Directly load the flower into the slide bowl, then light up, inhale, it just leads to superb enjoyment.

So what types of best glass bongs are available varying individual and occasion?
Portable Glass Bongs to Carry Anywhere
Regarding something easy to use that delivers quality toker, please check this 13mm Classic Spoon Pipe BT7609. This crystal spoon pipe is lightweight (just 62g) and sturdy enough for its compact design. Made by high-quality borosilicate glass, it is portable to slip into a pocket and take everywhere, a good starter for herb beginners.
To get a cleaner smoking experience, this thick and durable 5-inch Hammer Bubbler BT7607 with water filtration can be a better choice. Meanwhile, whether putting water or not is your choice, it can function as both water pipe and dry pipe with a 26mm fixed bowl, a perfect on-the-go smoke piece. Many color options like black, teal, light blue are available.
Classic Glass Bongs to Fit Budget
On the subject of affordable unit price, the transparent Classic Beaker Bong BT1517 may seem the first recommendation. It has a sleek design from the top to the bottom, 8 inches tall, 3.8 inches base width, a 250g weight, easy to take and clean.
Concerning more stylish designs, please check these two glass bongs with decals - carton Honeybee Beaker Bong BT1517-2 and glow-in-the-dark Ghost Beaker Bong BT1517-1. They are precise with the same parameters as BT1517 above, convenient for usage with more interest.
High-end Glass Bongs to Personalize Amusement
The Tree-Perc Beaker Bong BT1110 or the Tree-Perc Straight Tube Bong BT3110 can be taken into consideration if a seasoned smoker looks for a more unique, higher-end glass bong. The tree percolator resembles low-hanging branches dangling from a tree. Its slitted arms inside the bong's water chamber can diffuse and cool smoke for a continuous cleaner, smoother hits.
As regards colored tube bongs, Bote Glass has also devised the 5.3 inches Matrix Perc Beaker Bong BT1214 and 4.9 inches Matrix Percolator Straight Tube Bong BT2204 to satisfy different requirements. They are both equipped with a matrix stereo percolator that helps to force the smoke to travel through water, filtering it.
So, here above are some smoking glass bongs gallery produced by experienced Bote glassblowers. Bote Glass's strong capability in Research Development and Craftsmanship enables its effective product revolution. It is more than premium quality goods, the one-stop smoking glass solution provider is what Bote Glass concentrates.